Achievements & Activities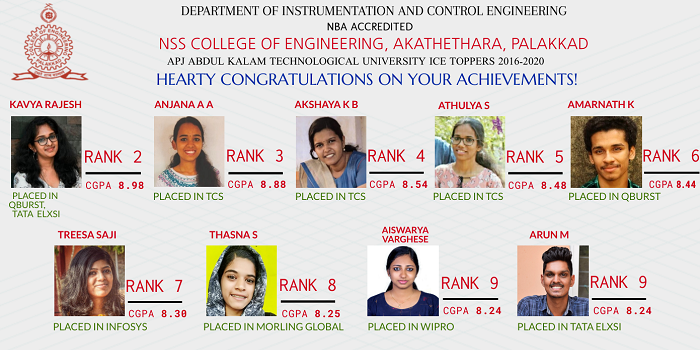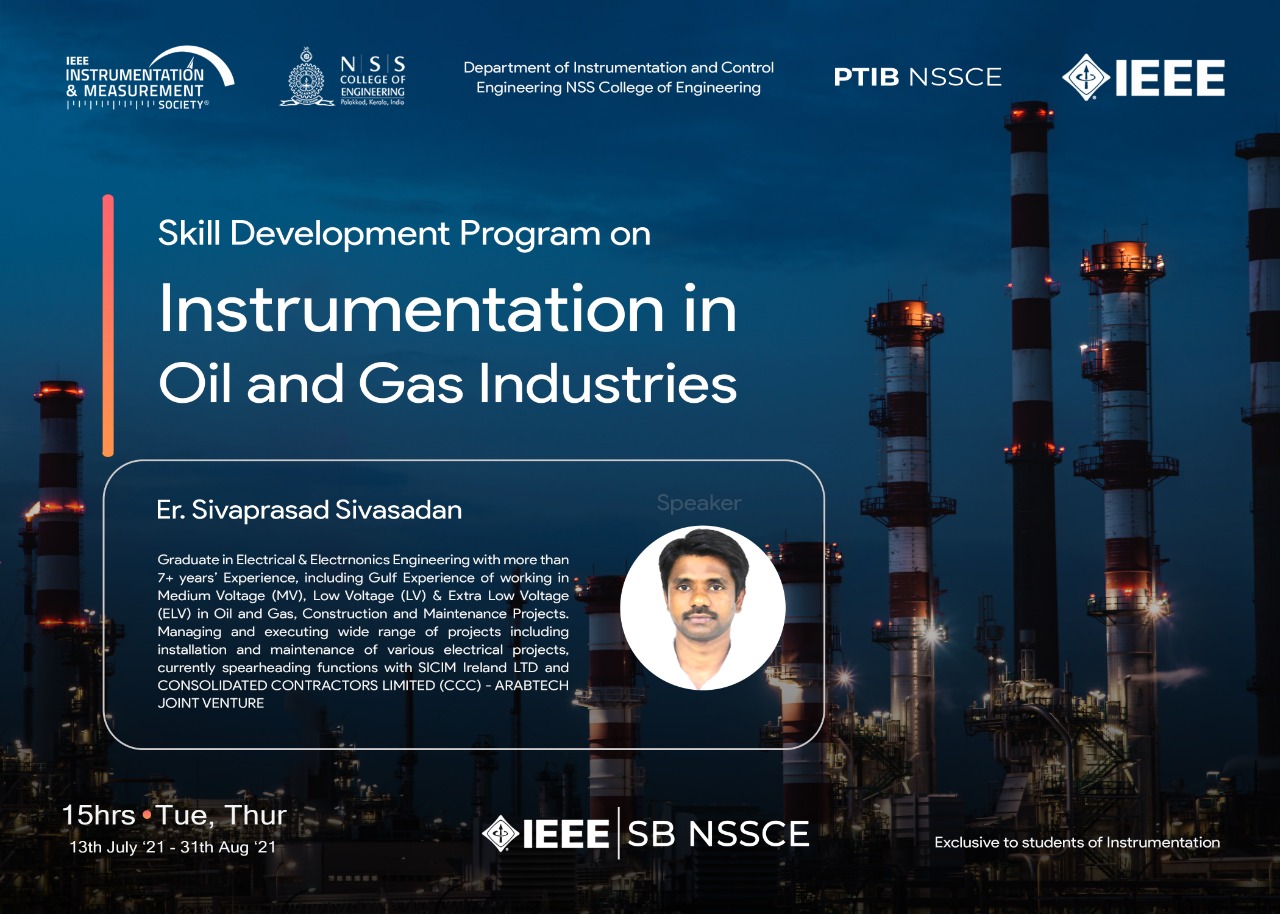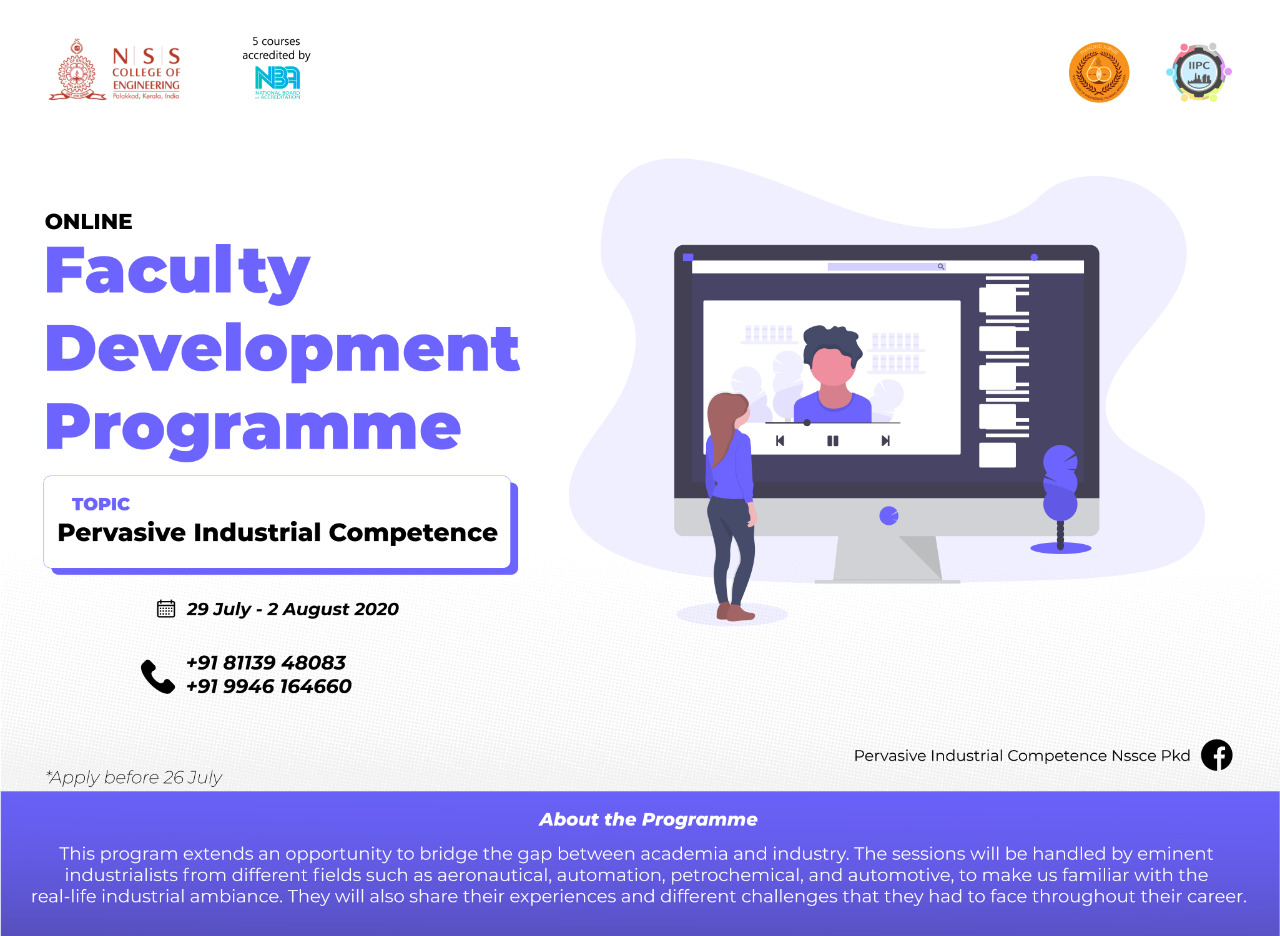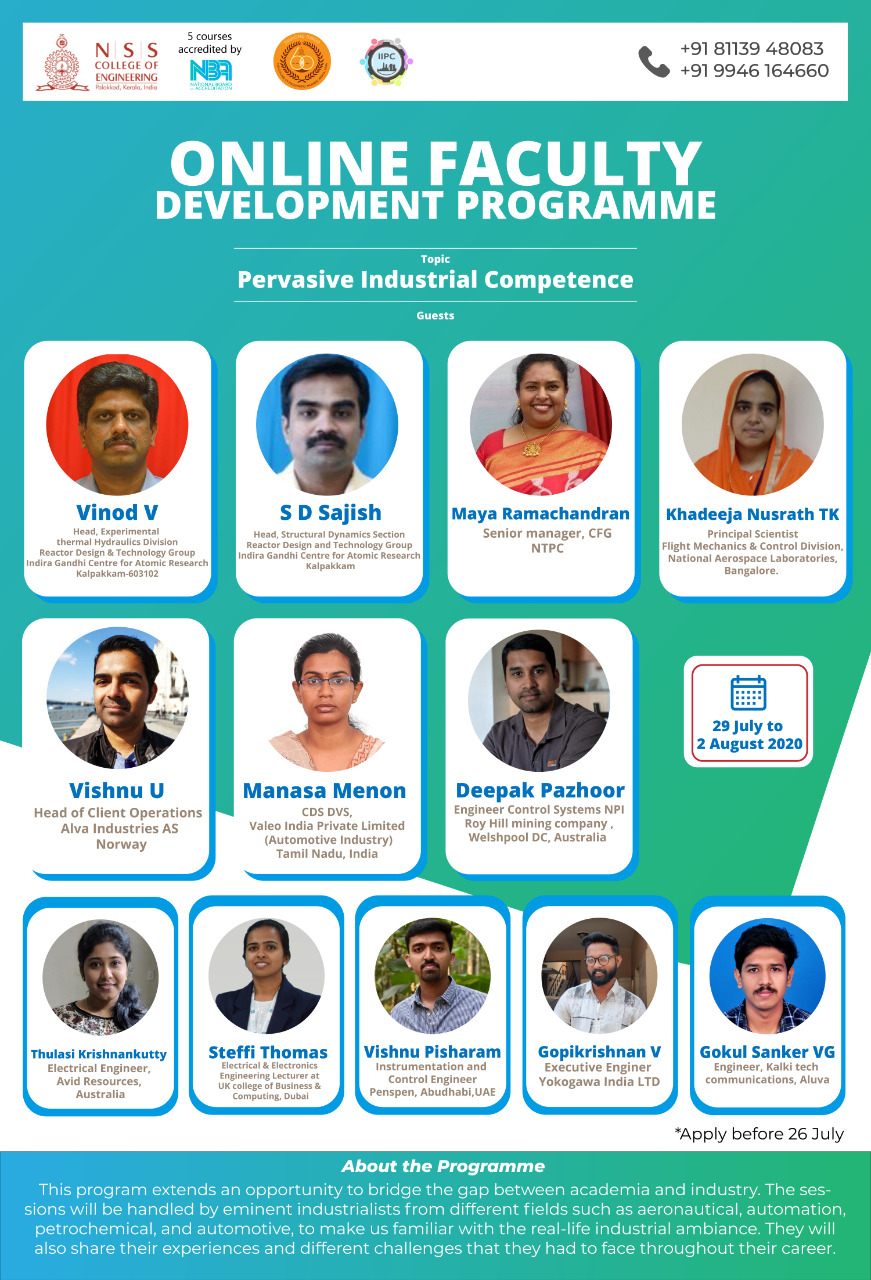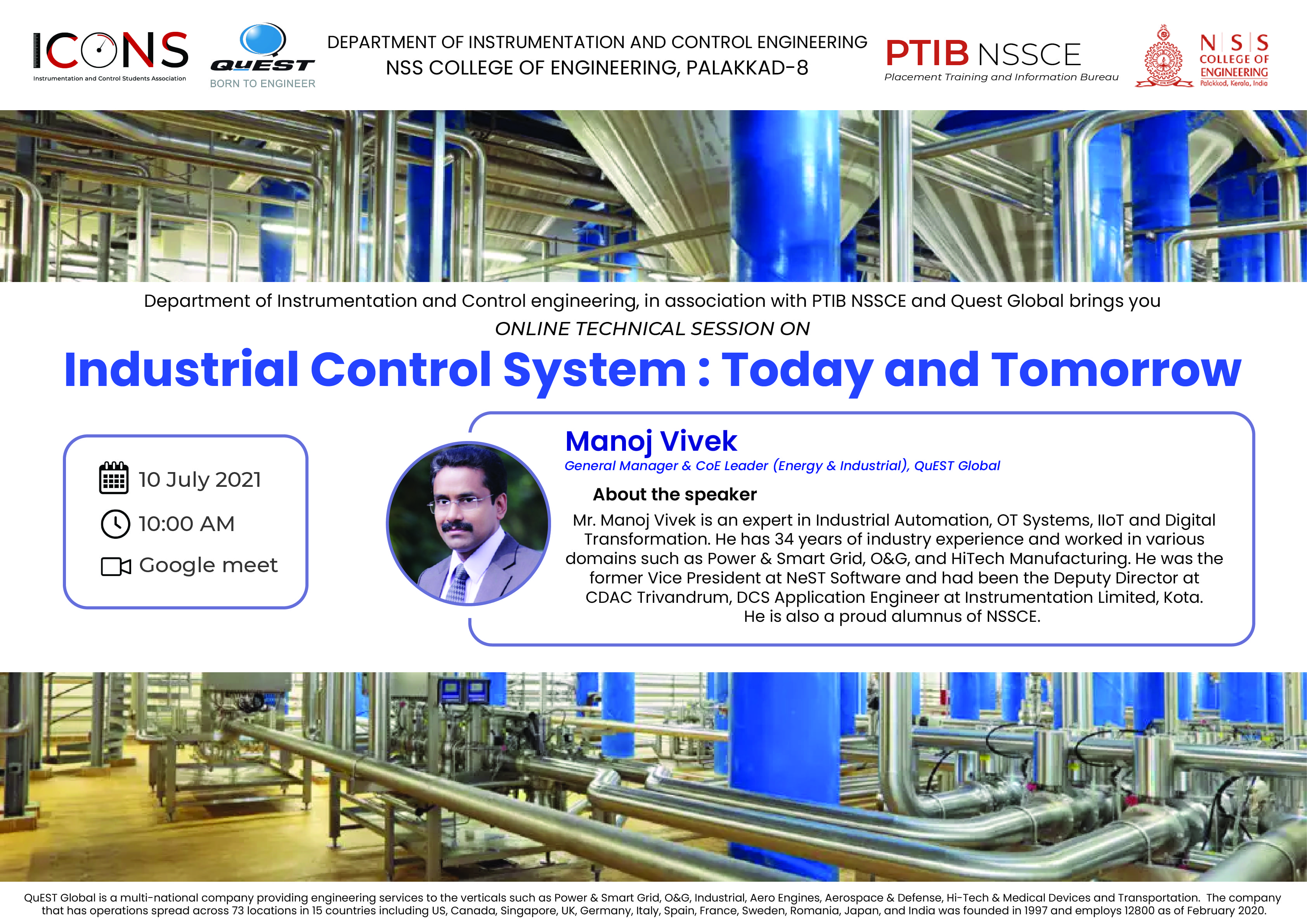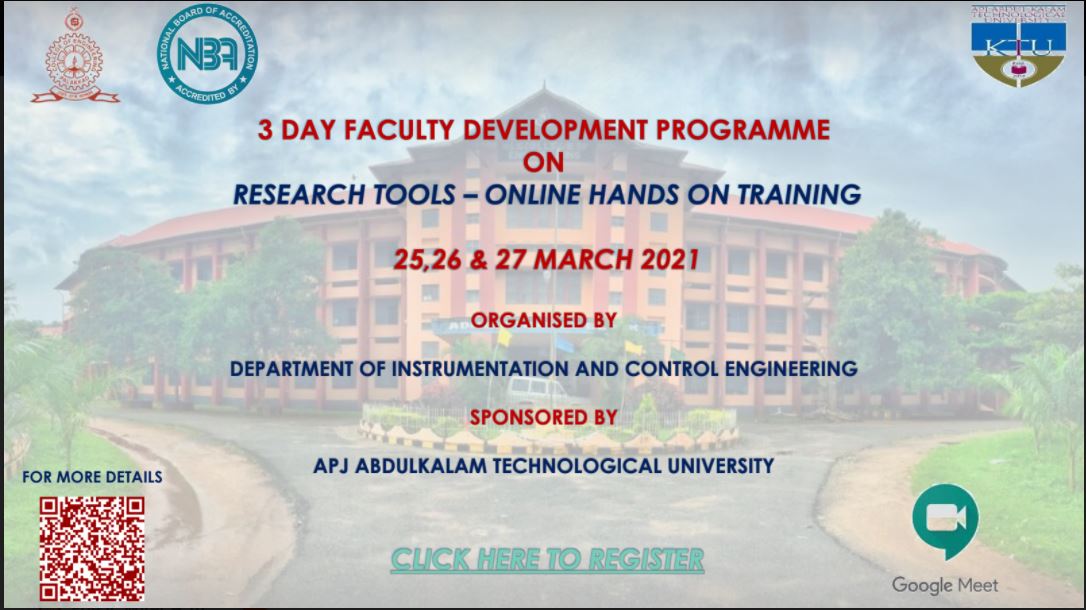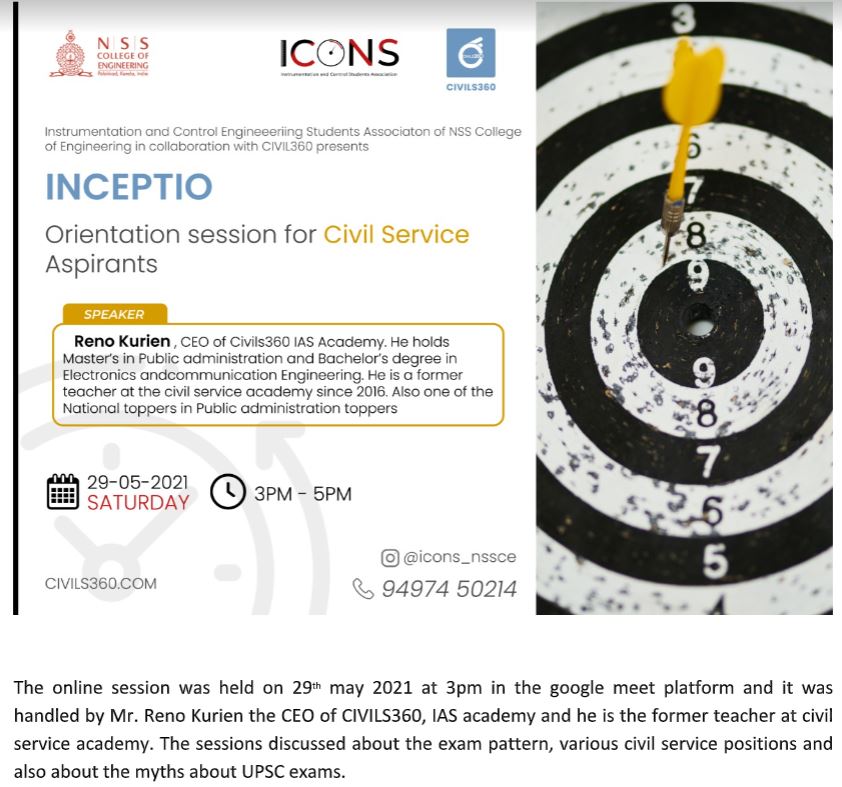 Department of Instrumentation & Control Engineering
The department of Instrumentation & Control Engineering, the only one of its kind in government /aided sector was established in 1980. The department offers a full time B.Tech degree course in Instrumentation & Control Engineering. The total annual student intake is 72. Department has been backed up by efficient, dedicated and specialized faculty and they work with dedication to keep in pace with the ever changing control and instrumentation scenario. The department has an excellent placement record, with its alumni working all around the globe in reputed companies in coveted positions. The alumni and the experts from industry visit the department periodically and give lectures, demonstrations and career guidance to the students. The students are also given exposure to the industrial environment through industrial visits and industrial training. It's indeed a matter of pride for the department that numerous eligible final year students are placed in prestigious MNCs every year.
Our Mission
To impart engineering education at par with global standards to create self motivated Instrumentation and Control Engineering graduates.
To inculcate a passion for learning and an ability to utilize the knowledge for solving real world problems and industrial challenges.
To be a premier centre for Instrumentation and Control Engineering studies and research.
To groom the graduates who uphold engineering ethics with a high degree of social commitment.
Our Vision
"To be a centre of excellence of international acclaim in the realm of Instrumentation and Control Engineering producing self motivated, knowledgeable and technically competent engineers to nurture the needs of the society"
| PEO | Program Educational Objectives |
| --- | --- |
| PEO1 | Graduate Instrumentation and Control Engineers will be technological leaders by holding key positions in leading industries. |
| PEO2 | Graduate Instrumentation and Control engineers will improve their professional and academic competence by acquiring more knowledge in the area of instrumentation and control engineering through research . |
| PEO3 | Graduate Instrumentation and Control Engineers will be model engineers with strong social commitment. |
| PSO | Program Specific Outcomes |
| --- | --- |
| PSO1 | Interpret the static characteristics and functioning of industrial, optical, electrical, mechanical, analytical, aeronautical, petrochemical and biomedical instruments used for measurements, calibration and control. |
| PSO2 | Specify, design, develop, implement and test electronic systems that perform analog and digital signal processing functions. |
| PSO3 | Design of continuous and discrete control systems and analysis of linear and nonlinear time invariant systems, using classical as well as modern control theories. |
| PSO4 | Analyze, specify, design, develop, implement and test process control and automation systems. |
SI.NO
Funding agency
Project title
Investigator
Amount (Rs)
Duration
1
CERD, Trivandrum
Wireless intravenous bottle monitoring system for hospitals
Dr. Venugopal G
Dr. Retheep Raj
45,000/-
1 year
2018-2019
2
CERD, Trivandrum
Characterization of effect of muscle fiber types in fatigue progression using surface electromyography signals
Dr. Venugopal G
1,95000/-
3 Years
2018-2021
3
Center of Excellence for disability studies, Trivandrum
Electromyograph y signal driven prosthetic limb
Dr. Retheep Raj and Dr. Venugopal G
3,00,000/-
1.5 Years
2019-2021
4
Science and Engineering Research Board, DST, New Delhi
Development of assessment protocols for aspiring athletes using surface electromyography signals.
Dr. Venugopal G
35,64,738/-
3 Years
2020-2023
5
AICTE, New Delhi MODROB
Removal of obsolescence and modernisation of industrial instrumentation lab
Dr. Venugopal G
12,62,500/-
2 Years
2020-2022
6
CERD, Trivandrum
Wearable gadget for navigation of blind people
Dr. Anish M N
22,500/-
1 Year
2019-20
7
CERD, Trivandrum
FPGA based portable devices for analysing neuromuscular conditions using surface EMG signals
Dr. Venugopal G
30,000/-
1 Year
2019-20
8
CERD, Trivandrum
Surface electromyography based prosthetic limb
Dr. Retheep Raj
40,000/-
1 Year
2019-20
9
CERD, Trivandrum
Automated swimming trainer suit for beginners
Sivakumar K S
50,000/-
1 Year
2019-20
10
KSCSTE
SEEDBOT- AN AUTOMATED SEED PLANTING ROBOT
Retheep Raj
Nikhil Binoy C
9000/-
Completed
2018-19
Total
Rs 54,64,738/-
content will be updated soon..
content will be updated soon..
B.Tech Instrumentation and Control Engineering Accredited by NBA
Head of the Department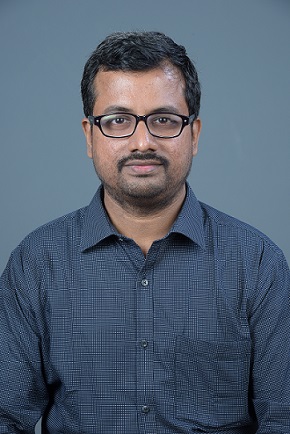 Nikhil Binoy C

9074861970

hodic@nssce.ac.in